Make Money with a Power Washing Service? The cleaning industry has become a lucrative sector, whether it's commercial or residential. Large companies, for example, avoid hiring permanent employees for this type of work because of the cost of hiring, training, insurance, and equipment. Even in normal households, families are busy with daily chores and weekends or holidays are the time to relax and be together.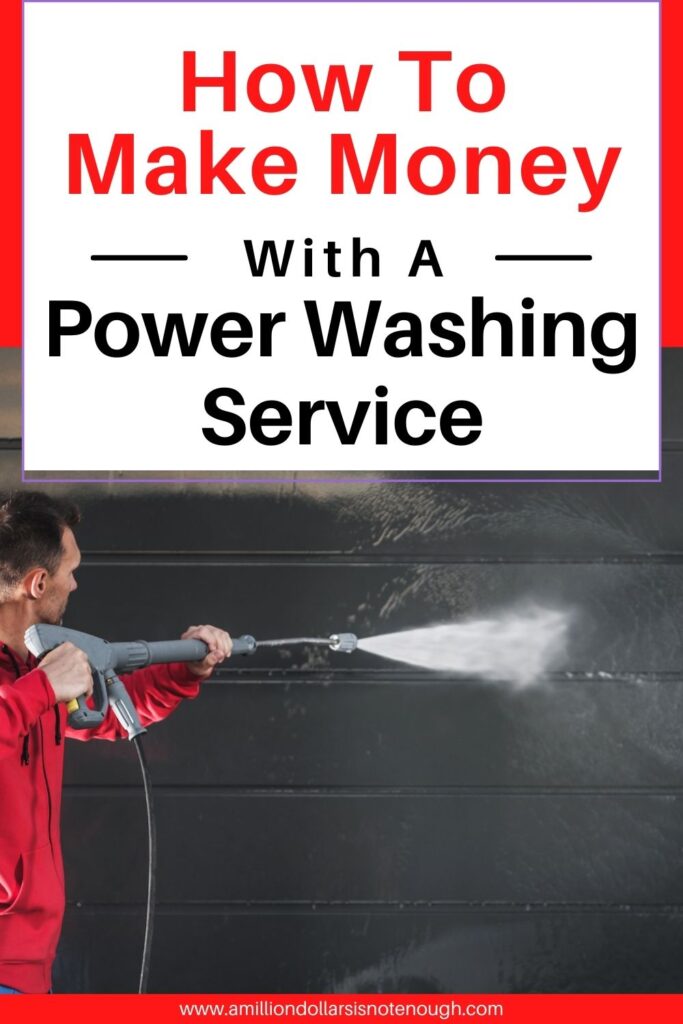 For these reasons, a contractor comes in to do the cleanup work quickly and save individuals and businesses hundreds of dollars and time.
If you are looking for a side hustle, there are countless opportunities and numerous benefits available with power washing. Let us take a quick look at the ins and outs of how to make money with a power washing service so you can decide if it's worth your time. Read more.
Power Washing: An Overview
Power washing involves using a powerful jet of hot water to remove dirt, debris, oil, mold, and other debris from surfaces.
The difference between power washing and pressure washing is that no hot water is used in pressure washing and the process is most popular for small applications such as the home.
In power washing, hot water and pressure can remove sticky materials from surfaces, including chewing gum. Therefore, it's especially useful for removing grease and oils from driveways, garage floors, or walkways.
In addition to common cleaning, power washing is also useful in controlling weeds, mold, moss, mildew, and other organisms that grow on surfaces, especially in damp conditions. It can eliminate them completely.
Getting Started on how to Make Money with a Power Washing Service
Now that you know what power washing is, you can figure out what kind of equipment you need to get started with your business. Most people have the misconception that it's cheap and easy to build a power washing business and be successful.
You buy the equipment and the next day your business is booming.
Undoubtedly, anyone would like that! But like any other business, it requires careful planning so you can supplement your income and have a chance to change your career when you eventually turn it into a full-time job. Therefore, you'll need to invest a lot of your free time to help the business take hold.
You may have limited time, but the upside can be worth it if you do it right. Part of being successful in the cleaning business is starting small, getting customers, and preparing for the long haul.
Before you get started, consider the following.
Are you the one doing the work, or will you hire someone to do the cleaning?
How much capital do you have available to get the business off the ground?
Do you plan to rent or purchase cleaning equipment?
Will you need insurance coverage?
Where will you get your customers?
We have researched these questions and compiled the answers in this guide to help you get started in the pressure washing business.
Formulate a Step-by-Step Framework of the Services You Can Offer
As with any other business, you need to have an idea of the type of services you can offer with your power washing company. Here is a list of common services you can offer.
Cleaning driveways by removing all types of stains and dirt
Removal of dirt from the patio
Cleaning the gutters of buildings using special equipment such as a telescopic pole
General cleaning of garden furniture
Cleaning barbecue grills after parties
Cleaning of decks
Cleaning of house walls
Cleaning sidewalks from grease and dirt
Cleaning of vehicles and boats
Get the Equipment
Leasing or buying cleaning equipment will certainly be a big part of your budget. Other costs such as transportation to the customer, cleaning supplies, and safety equipment will be added.
The basic cost of leasing a washing machine and water tanks can be over $1000 per month. Most machine leasing providers require a down payment of at least 30% of the amount.
For starters, it would not be a good idea to buy an expensive washing machine. As a rule, prices vary, with some of the best machines going for a few hundred dollars to more than 10000 dollars.
You also need to think about leasing a van to house the machine. This can cost you up to $500 per month. Other costs you need to consider include vehicle maintenance at $200 per month, insurance at $100 per month, and advertising through flyers and business cards at $200 per month.
Ideally, you will need up to $2,000 to start a cleaning service.
Other Accessories Needed to Make Money with a Power Washing Service
Besides the washing machine, you will also need other accessories to make your work easier. This will also help you gain an advantage, leverage, and grow your business.
Most of these accessories are available at home improvement stores near you or online stores like Home Depot. You will need the following items.
A long washer
Typically, there are smaller models that are 25 ft long, but they can limit the range of use. For ultimate performance, choose a 50 ft washer. A pressure hose can cost anywhere from $30 to $150.
Wand
To be able to clean different surfaces, you need to attach a wand to the pressure washer. Pressure washers are not universal and are made of different materials. Therefore, when buying one, look for one that fits your equipment. The price of a pipe can range from $10 to $200.
Gutter Cleaner
Another accessory you should not be without is a gutter cleaner. Normally, leaves from trees can accumulate in the gutters at the end of the fall.
Most customers who hire a cleaning service want a thorough cleaning that involves flushing the gutters and downspouts with water so they can drain properly.
You will need;
A ladder,
Gutter scoop or garden trowel,
Safety gloves
Eye protection
A bin to take out the foliage and debris
Rake
If the gutters are difficult to reach, you will need a regular vacuum cleaner and attach the pipe to facilitate cleaning. This way you only need to vacuum the leaves, put the trash in the vacuum cleaner and dump it into a container.
Dirt Blaster
A dirt blaster helps remove dirt and other contaminants from surfaces. The accessory works in conjunction with the spray wand by spinning to remove all dirt. A typical dirt blaster spray wand can cost up to $40.
Extension Station or Telescope
A telescope gives you a good view of the gutters to gauge the amount of debris inside a pipe. It's handy when you are cleaning higher areas like commercial spaces.
A Rotating Nozzle
This accessory speeds up cleaning, especially for larger areas.
Promote your Power Washing Service
Even though it may seem obvious, attracting customers to your business can be difficult at first. Therefore, you need to promote your business by making it stand out from the rest.
This includes providing the best customer service, and eventually, customers will be lining up to have their homes, offices, driveways, sidewalks, or walkways cleaned.
Building an online campaign is the cheapest and easiest way to get the word out.
For starters, you can post on your social media pages like Facebook and Instagram and put out some basic information about your business.
Over time, you can set up a website so that your business customers can easily connect with you. To maintain customer loyalty, you should develop an incentive program for repeat customers.
A professional website is like a storefront that your potential customers will see first when they search for services. Make sure the tabs are easy to navigate.
Also, link it to social media platforms to help you gain more followers. Finally, be consistent and post regularly to keep your clients interested in your work.
How Much Money Can You Make with Power Washing Service
How much you can earn is a common question for any business. The idea behind starting your cleaning business is that you will earn extra income. The amount you earn each month depends on the following factors.
The number of customers or orders
The cost of doing business
The use of the equipment
Data from Homeadvisor suggests that customers spend an average of $192 to $401 to pressure or power wash their hows.
Since compensation can vary from state to state, it's important that you first find out the hourly rates of the service providers in your area.
Your Google search page is the first place to look to find a cleaning company in your area. You can quickly review their pages to get an idea of how much they charge for residential and commercial businesses. The preliminary rates will help you find a great price.
In many areas, residential cleaning rates range from $40 to $60 per hour, while commercial rates can be as high as $100 per hour.
However, these are only guidelines to help you price your services. Keep in mind that some clients may only want certain areas cleaned, so it's important that you have a breakdown of the cost of each service.
For example, the following charges may apply depending on the type of cleaning;
| | |
| --- | --- |
| Service | Amount |
| Cleaning the gutters- depends on the type of property. You may charge more if the property is two or three stories. | Up to $200 |
| Cleaning the driveway | $200 to $300 |
| Cleaning the deck or patio | $250 to $500 |
| Cleaning a car | $50 to $200 |
Commercial establishments may pay between $0.25 and $1.50 per square foot to clean an outdoor area. The price may be higher for multi-story buildings where windows must be washed or scaffolding erected.
Once you have a rough idea of the fees, you need to consider the cost of doing business.
If you spend about $1000 per month on insurance and equipment leasing, you should have at least 4 residential customers per week to break even.
Granted, it's a no-brainer to make money with cleaning services if you keep your costs low. You can make up to $50,000 a year, and if your business expands, you can even make six figures.
Tips to Succeed in Power Washing Service
Here are some basic tips to get you started.
Learn How to Power Wash
Although you may need to hire extra help, you need to learn how to do the work yourself. It may not be easy at first, but with practice, you will soon be able to wash like a pro.
Among other things, you'll need to know how to operate the equipment for efficient cleaning. Luckily, you can enroll in a power washing course to improve your skills. You can also start cleaning your house, friends' or relatives' property to gain hands-on experience.
Also, you can watch numerous YouTube videos that are really helpful. If you practice regularly, you will be amazed at how quickly you gain the experience and confidence to complete a client's job.
While you are at it, pay attention to the equipment and supplies you'll need when you start your business.
Have a Business Plan
You need to have a business plan for your power washing service which includes the following;
Cost
Pricing
Target market
Opportunities for growth
Available risks
Your marketing plan
Keep in Touch with Your Service Providers
You need to keep a record of the contacts with your service providers that you can turn to when the machine breaks down.
Create an Accounting Plan
To get an overview of your business's performance, you need a record of receipts and expenditures.
Record all expenses, and keep an inventory of assets, including equipment, soap, and other supplies. Also, record all cash receipts to determine your income and use them for tax purposes.
Get your Licenses
You'll need to apply for a business license to get your business off the ground. The type of license may depend on your county or state. For a small business, it's easy to get a license, but for a large company, you'll need to meet federal requirements.
Register your Business for Tax Purposes
In addition, you will need to register your cleaning service for tax purposes. Some of these taxes can be sales and self-employment taxes. It is important to research and file your taxes according to the laws beforehand.
Take out Insurance
You will need to purchase an insurance package for your business to protect against potential risks such as injuries, equipment damage, and property damage.
Have a Business Portfolio
A portfolio can include a description of your business and photos of your past work. This will allow you to show your potential clients what kind of services you offer.
Outsource Orders
Every now and then you will be inundated with requests, especially during the summer when everyone wants their homes sparkling clean.
You can sign a few contracts with other service providers during this time and let them handle the excess work.
Customer Satisfaction
Lastly, provide the best service to your customers as they will passively promote your business. Complete their orders on time to keep them satisfied.
To Up How to Make Money with a Power Washing Service
Starting a power washing service can undoubtedly be difficult especially if you haven't tried it before. However, if you follow the right steps, you can easily make money in your first month. All you have to do is have a plan, get the equipment, comply with regulations, promote it and most importantly, keep your customers happy by exceeding their expectations.
Other Ways to Make Money That You May Like: